Anchoring dead-end clamps for ABC with messenger / Type PA1500
Anchoring bracket – CA1500
  Anchoring bracket for dead-end clamp

Bracket support for dead-end clamp fixing

Installation on poles/ Tensile 1500 DaN
Fixing with bolts or steel strapping

Anchoring bracket – CA2000
    Anchoring bracket for dead-end clamp

Bracket support for dead-end clamp fixing
I

nstallation on poles/ Tensile 2

000 DaN
Fixing with bolts or steel strapping

Anchor dead-end clamp   DN35
   

Anchoring dead-end clamp for insulated messenger



For fixing insulated messenger

Round cable  25 – 35 mm2
Mechancical tensile 750 DaN

 Anchor dead-end clamp    PA1500
  Anchoring dead-end clamp for insulated messenger

For fixing insulated messenger

Round cable 50 – 54,6 – 70mm2
Mechancical tensile 1500 DaN

 Anchor dead-end clamp    PAC1500
  Anchoring dead-end clamp for insulated messenger

For fixing insulated messenger

Round cable 5

0 – 54 ,6 – 70 mm2
Mechancical tensile 1500 DaN

 Anchor dead-end clamp DN70     PA2000
Anchoring dead-end clamp for insulated messenger
For fixing insulated messenger

Round cable 50 – 54,6 – 70 mm2
Mechancical tensile 2000 DaN

 Anchor dead-end clamp      PAC2000
  Anchoring dead-end clamp for insulated messenger

For fixing insulated messenger

Round cable 50 – 54,6 – 70 mm2
Mechancical tensile 2000 DaN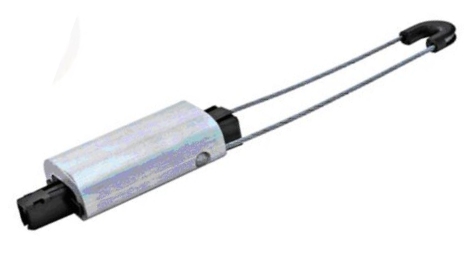 Anchor dead-end clamp    DN95
  Anchoring dead-end clamp for insulated messenger

For fixing insulated messenger

Round cable  70 – 80 _ 95 mm2
Mechancical tensile 2000 DaN

 Anchoring dead-end clamp DN95/120     PA2200
Anchoring dead-end clamp for insulated messenger
For fixing insulated messenger

Round cable  95 – 120 mm2
Mechancical tensile 2200 DaN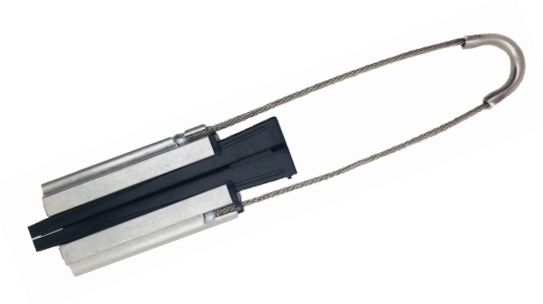 Anchoring dead-end clamp DN120     PA3000
Anchoring dead-end clamp for insulated messenger
For fixing insulated messenger

Round cable  95 – 120 mm2
Mechancical tensile 3000 DaN

NILED, as european manufacturer, develop ABC accessories for more than 70 years. The offer includes a wide range of wedge anchoring dead-end clamps for fixing overhead bundled conductors. The anchoring dead-end clamps PA1500-PA2000 type are used to anchor the insulated messenger thanks to a wedge system. Because the body of the clamps are made from aluminium profile, the weights and dimensions of the anchoring wedge clamps are optimized. Installation is consquently easier. This installation is also easy thanks to a ball fixing system of the stainless steel bail. Niled propose anchoring dead-end clamps fitted with hook anchoring system (PAC1500/PAC2000).

PA1500 , PA2000, PAC1500 anchoring dead-end clamps suit to conductors cross-section from 50 to 70 mm2
The anchoring bail will be fitted either with plastic (PA600-PA1500-PA2000) or metallic bail (DN120) according to the required tensile strength.