Cable pulling or suspension grips for indoor cables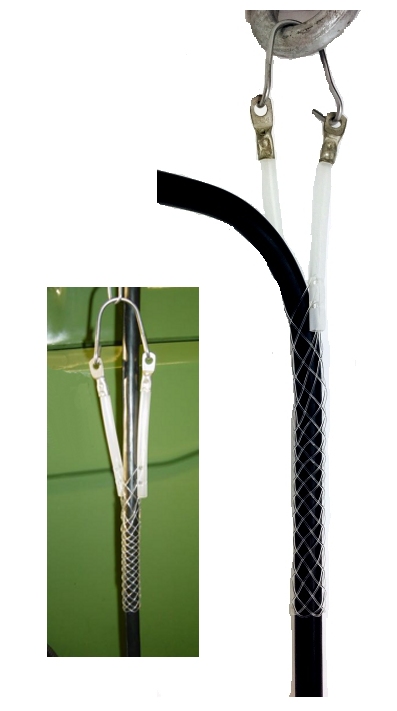 Nylon suspension grips

–

BGM

Nylon grip fitted with steel fixing bail
 Allows to anchor round cable or pipe

Quick and easy installation

of the branch




For water hose, gas conduit or electrical cable



Nylon /

Tensile strength : 100kgs



For diameter    7 – 8 mm :     BGM-8
For diameter  8 – 10 mm :    BGM-10
For diameter 10 – 12mm :    BGM-12
For diameter 12 – 15 mm :   BGM-15
For diameter 15  – 17 mm :  BGM-17
For diameter 17 – 20 mm :   BGM-20
For diameter 20 – 25 mm :   BGM-25
For diameter 25 – 29 mm :   BGM-29
For diameter 30 – 39 mm :   BGM-39
Please consult for other characteristics
Avalaible in steel or galvanised wires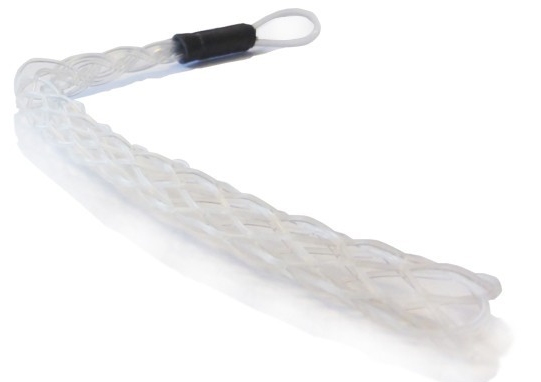 Nylon pulling grip  "1 Buckle"

 Pulling grip for insulated conductor
For pulling or uncoiling insutated cables

NYLON grip  "1 bucke version"

For dia 11-13 mm/ 450 kgs: 1B-13/2
Dia. 15 – 20 mm / 1000 kgs : 1B-20/2
Dia. 20 – 25 mm / 2000 kgs : 1B-25/4
Dia. 25 – 30 mm / 2000 kgs : 1B-30/4
Dia. 30 – 35 mm / 2000 kgs : 1B-35/2
Dia. 35 – 40 mm / 2000 kgs : 1B-40/2

Dia. 40 – 50 mm / 2000 kgs : 1B-50/2

Dia. 50 – 60 mm / 2000 kgs : 1B-60/2
For galvanized steel grip : add "A" to the ref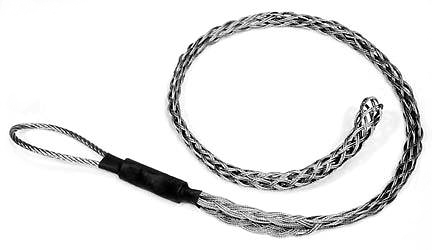 Steel pulling grip  "1 Buckle" – Wire meshes
 Uncoil or pulling grip for ABC conductor(s)
For insulated cables pulling
1 buckle version – Made with steel wires
Dia

. 15-20 mm / 1000 kgs : 1B-20/2 -A

Dia. 20-25 mm / 2000 kgs : 1B-25/4 -A

Dia. 25-30 mm / 2000 kgs : 1B-30/4 -A

D

ia. 35-40 mm / 2000 kgs : 1B-40/2 -A

D

ia. 50-60 mm / 2000 kgs : 1B-60/2 -A
"2 buckles" type : consult us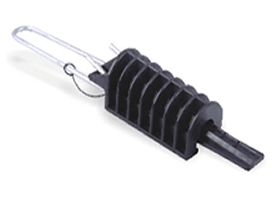 Fixing anchoring deadend clamp for round cable
Fixing wedge anchor clamp

Insulated conductor  Dia. 4 -14mm  / 200 DaN
For fixing electric conductor , pipe or hose

As european manufacturer, Niled propose for more than 70 years a complete range of products for the Aerial Bundle cables (power distribution) or industry electrical networks (including pulling and suspension cable grips).
Looking at Niled catalogue or consulting us, you can find a wide range of pulling accessories for ABC, suspension cable grips designed for installation of insulated cables, pipes or conduits. Please look here-above and select more convenient suspension cable grips convenient for your application.
Note that, according to the use, weight, or anchor characteristics, we will propose either nylon or steel suspension or pulling grips for the insulated cable or conduit fixing. You also will find in our product's line specific tooling for the installation of insulated distribution conductors (String rollers, pulling cable grips, stringing devices for ABC, come along clamps, cable rollers…).